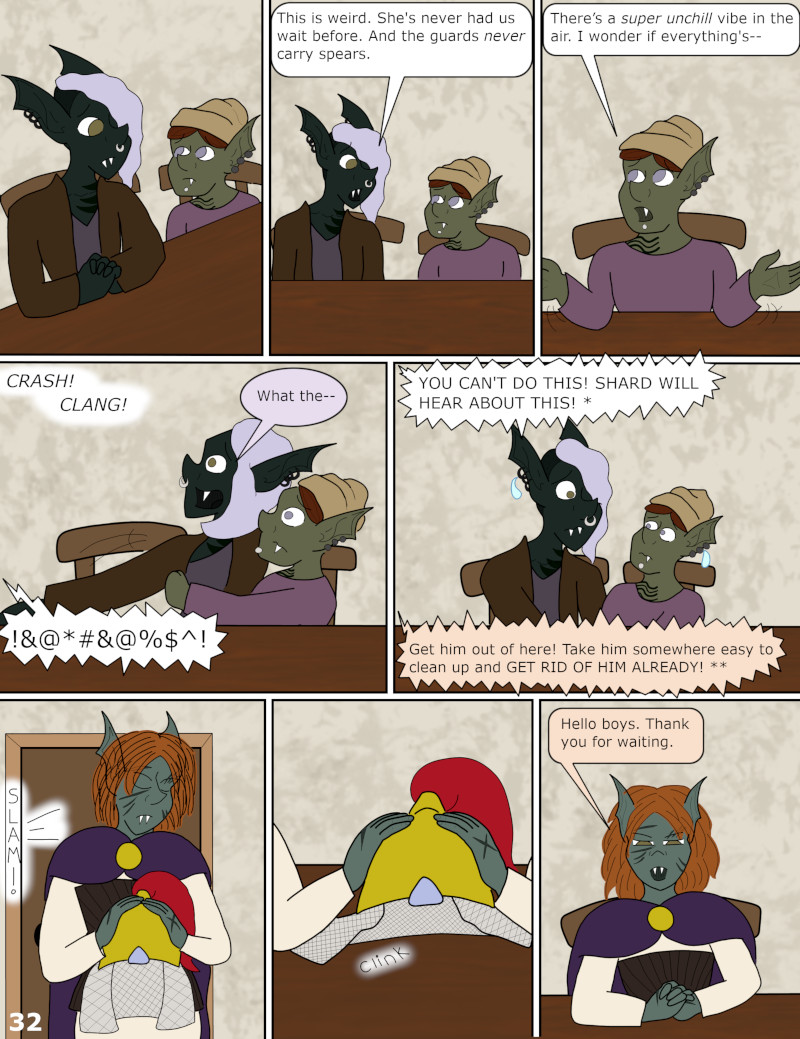 (*A Roman man's voice.
**A Goblin woman's voice.)
The Goblin kingdom of Grilamak is supposed to have a treaty with Romani's prison colony Borealia, of which Lady Shard is governor. It figures Romani's first female governor is a necromancer bent on world domination. But it looks like that treaty isn't going so well.
Transcript:
Page 32 panel 1
(Teo and Ruby sitting in a waiting area, waiting for the queen.)
Panel 2
Teo: This is weird. She's never had us wait before. And the guards never carry spears.
Panel 3
Ruby: There's a super unchill vibe in the air. I wonder if everything's–
Panel 4
(Noise and shouting from without)
Teo: What the–
Panel 5
Roman Voice: (off camera) YOU CAN'T DO THIS! SHARD WILL HEAR ABOUT THIS!
Goblin woman's voice: Get him out of here! Take him somewhere easy to clean up and GET RID OF HIM ALREADY!
Panel 6
(Goblin woman walks in in full armor, helm in hands)
Panel 7
(Puts helm down on table with heavy sigh)
Panel 8
Gri'shak: Hello boys. Thank you for waiting.