Goblins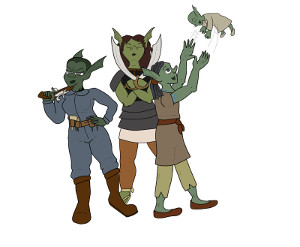 Goblins; along with Orcs, Elves, and Dwarfs; are native to Ecadia. They have a reputation, especially amongst Humans and Elves, of being evil, savage, conniving and ultimately cowardly. That theory is about as accurate as that of Dwarfs hatching from rocks, or Orcs having once been human before being transformed into monsters by evil forces. Goblins, like people across the galaxy, are just that. People.
Goblins are a little smaller on average than humans, with men standing between 5'2″-5'6″, and women 4'9″-5'3″. Their skin comes in various shades of green for the most part, aside from a rare genetic mutation leaving them almost tar-black. Higher-than-normal levels of caramine in their blood make it black and more viscous when exposed to the air, making for quicker clotting. Their limbs are a bit longer than those of humans, with longer, more tensile sinews which lend a little extra strength, and they tend to be more slender, like Elves.
Goblins have been targets to many other sentient creatures over the years, and have thusly evolved some very distinct defense mechanisms. For one, they are the only sentient race on this planet to have retractable claws. Only cats share this trait with them. There is also a toxin found in their skin, saliva, and glands underneath their claws that elves and humans are particularly allergic to, making a bite or scratch very irritating, and in rare cases deadly. Orcs and Dwarfs don't seem to be as affected by this toxin. It does, however, give off a distinctive smell, which gets stronger if they are scared or otherwise agitated.
Despite common social prejudices, Goblins are highly intelligent. While it is true that they have developed a few physical defense mechanisms, their primary defense comes from outsmarting their predators. They are clever and quick to learn and adapt, depending on stealth, inventiveness, and guerilla tactics to get them out of tough scrapes. They are good with traps, technology, chemistry, medicine, and magic.
Goblins are a musical people. Some of the few non-Jovian monotheists, they believe their god Jahl lived on the planet because the other gods would not allow him into Heaven. He was lonely, and so sang a song. Goblins "sprung from the ground like seedlings" and began to sing with him, and his song became a happier one. Now they sing or play music to praise Jahl. It doesn't matter the song, or how good you are at playing/singing it. Music pleases Jahl.
Goblins are also a very colorful people. They like bright colors and geometric patterns. They can find color and beauty in anything, and often decorate their homes with anything they can find that they polish down or carve or paint. They are extremely talented craftsmen.
Tattooing is also very important to Goblins. In the days before they were chased underground or into swamps, tattoos demarced name, profession, prowess, or magical ability. Clans also had distinct tattoos of their own. After Elves and Humans chased them into hiding or took them as slaves, tattoos were a way of remembering who they were. Soon after birth children were marked with their names and their clan on their torsos in ink made from a luminescent cave moss in a language only really understood by Goblins. This was so if they ever got lost, or were killed, or were taken, even in pitch black, they could be identified. They would always remember who and what they were, and so would everyone else. With stripping of a people's identity such a common tactic for conquerors, who you are and where you come from can so easily be lost forever. Goblins' identity is very important to them.