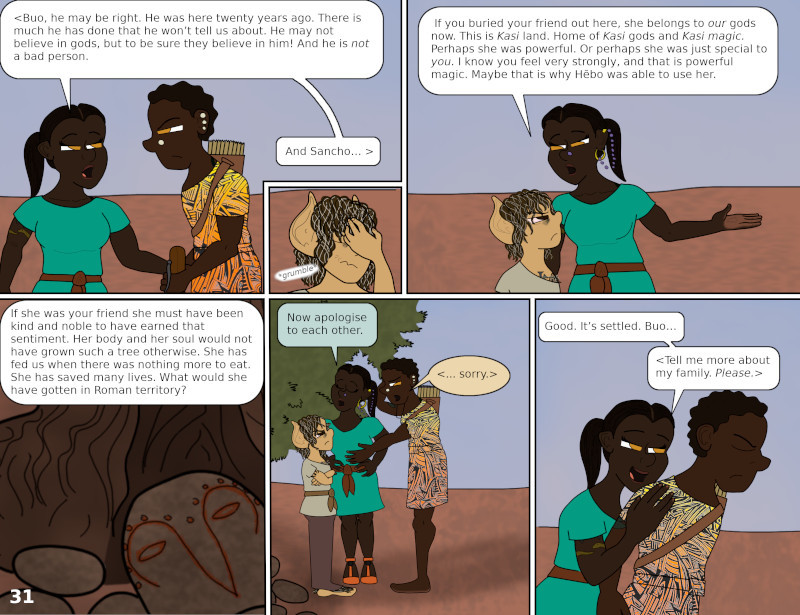 Transcript:
Page 31 panel 1
Uba: =Buo, he may be right. He was here twenty years ago. There is much he has done that he won't tell us about. He may not believe in gods, but to be sure they believe in him! And he is not a bad person.
And Sancho… =
Panel 2
Uba: If you buried your friend out here, she belongs to our gods now. This is Kasi land. Home of Kasi gods and Kasi magic. Perhaps she was powerful. Or perhaps she was just special to you. I know you feel very strongly, and that is powerful magic. Maybe that is why Hēbo was able to use her.
Panel 3
Uba: If she was your friend she must have been kind and noble to have earned that sentiment. Her body and her soul would not have grown such a tree otherwise. She has fed us when there was nothing more to eat. She has saved many lives. What would she have gotten in Roman territory?
Panel 4
Uba: Now apologise to each other.
Buo: (awkwardly) =… sorry.=
(Sancho just glares at him)
Panel 5
Uba: Good. It's settled. Buo…
=Tell me more about my family. Please.=